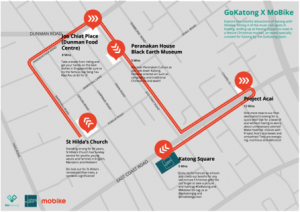 Discover Katong on two-wheelers with family and friends.
MoBike, the world's largest and…
Tea lovers will be delighted with the tea personality test workshop featuring four exclusive premium teas from the famed Wuyi Mountain.
The teas will be paired with a degustation of…
Warm your hearts with the charming performance from Wolfgang Little Maestros Orchestra from 4.30 pm to 6 pm on Saturday, 15 December @ Go Katong Live Christmas 2018! Not to be…
Go Katong Live Christmas 2018
A Christmas that embraces the community to share, learn and experience.
December 14, 15, 16, 21, 22, 23, 2018
Katong Square comes alive with…
"Eating Right Matters" is a Health Talk where we can learn about…